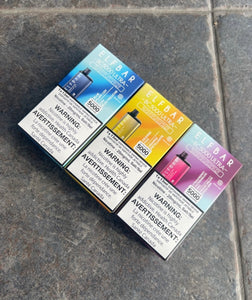 This Week's Top Stories About Disposable Vapes
Disposable Vapes have been gaining popularity in the last year, mainly for their convenience factor. They come in non rechargeable, and now rechargeable options.
What are disposable Vapes?
To make it simple, Disposable vapes are rechargeable or non rechargeable e-cigarette vapes that already come pre filled with Ejuice. They are available in lots of different brands, and hundreds of flavours of juice ranging from Tobacco flavour, Bubble Tea / Drink flavours, Exotic Fruits to Sweet candy - like - flavour. Just like smoking cigarettes or cigars, disposable vapes provide a mouth-to-lung (MTL) inhale so it makes quitting a little easier! Weather you are a beginner or a professional vaper disposable vapes are for every adult!
What are the benefits of a disposable vape compared to the classic one you fill?
Disposable Vapes come pre filled. No need to fill up or deal with sticky E-Juice. Most Tank - like Vapes tend to leak and cause a mess. With the disposable vapes there is no coil to replace! You will never taste a burnt coil ever again! Very low maintenance, just toss it out after it's done. They are also very easy to use, just take off the plastic and inhale! If you are looking for massive vape clouds Disposable vapes might not be for you. If you are looking for something sleek and portable for on the go or nights out it's perfect!
Do
disposable vapes
have nicotine?
Yes. Due to the laws in Canada the maximum amount is 20mg. There are also disposable vapes that have 0mg nicotine as well.
How many puffs do disposable vapes have?
At the beginning most of the disposables had 500 puffs. Now most of the popular brands have between 1800 and 7000 puffs.
What brands do you carry?
While we are constantly getting in new brands we currently have: Mr. Fog 2500,
Mr. Fog Switch
, GCORE 1800 -
7000 Puff
,
Elf Bars
, Vice, Ghost Vape, Ruf Puf, Allo,
Flavour Beast
, Vapeman 6000 & More!
---