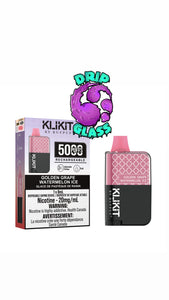 This month's top Disposable Vape - KliKit
KLIKIT is a revolutionary hybrid pod / disposable vape made by RUFPUF. While keeping the environment in mind, with the KliKit you keep the battery, and just replace the Pod.
With Over 20 Flavours, each pod has around 5000 puffs or 8ml of High quality Juice. The KliKit is easy to use, no button necessary. Just inhale and go!  
Battery is a 650 mAh, long lasting rechargable type C. The upgraded coil is a next generation mesh coil system. Also has a upgraded adjustable airflow control.
Find the KliKit at Edmontons number one vape store, located downtown Edmonton on Jasper Ave and 107st. We ship as well!
---