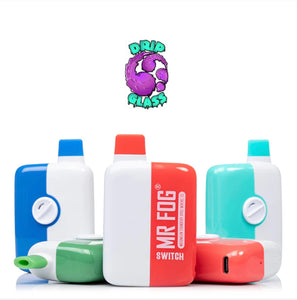 The Top Disposable Vapes to Look For in 2023
It was reported in 2022 that 5-10% of Canadians Vape regularly. Vaping has grown in popularity in the recent years for a number of reasons. Consumers are always looking for the best and most affordable brands. Some of these disposable vape brands are:
Mr. Fog Switch
Mr fog was founded in 2015 with the goal of providing a safer alternative to cigarettes, according to there website. In the last 8 Years they have become one of the biggest vape brands in the industry providing the best flavour at the best price.
Mr. Fog Switch delivers about 5500 Puffs (15ml) and has a rechargeable 650 mah battery.
Available in 20 unique Flavours!
       2. Flavour Beast
Flavour  Beast is a newer Canadian Company. While being high quality, it is one of our more affordable options for rechargeable. Flavour Beast has 4000 Puffs (10ml)  with a 600mah rechargeable battery. Taking advantage of newer technology, It has a integrated 1.2 ohm mesh coil and type C charging port!
     3. GCORE vape
GCORE, another Canadian company has been one of the top leading companies in the Canadian vape space for years. GCORE Vape offers a wide selection of products including E-Juice, 3500 Puff Disposable vape and 7000 puff box mod disposable.
3500 puff
Battery: 1100 mah
Eliquid: 12ml
  4. Elf Bar
Here at Drip Glass & Vape, Elf bar has been becoming one of our best sellers for disposable vapes. There newest model, Elf Bar BC5000 Ultra has been exceeding users expectations. All new mesh coil from Quaq, 13ml of e-liquid and 650MAH rechargeable battery! It's new casing makes it a unique one of a kind vape!
Conclusion:
There are hundreds of brands of Disposable vapes out there. Some of the major brands we sell are Mr.Fog, GCORE, Elf Bar & Flavour Beast. The vaping industry, particular disposable vapes is always evolving with its new technology. It can be difficult to keep up with it all! Here at Drip Glass & Vape we are here to answer your every question!
---