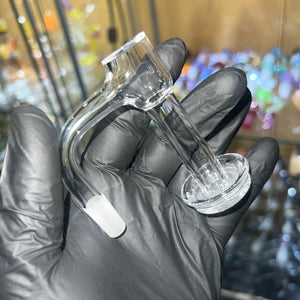 The Different Types and Styles of Quartz Bangers Explained For Your Dabbing Needs
In what feels like the twinkle of an eye, the way we dab and the tools we use have changed drastically. The quartz banger is the new 'it' tool, sending the once-trendy dome less dab nails made from Grade 2 titanium and high-quality ceramic. The chance of you seeing domes and swings at any sesh is slimmer than sighting a unicorn.
The hype is worth it! Quartz bangers retain heat amazingly well and keep that flavor at its optimum. In this post, we'll discuss the different types and styles of quartz bangers so you can find what's best for you.
1. Thermal Quartz Bangers
Pukinbeagle created the initial designs of thermal
quartz bangers
. The banger is famous for offering some of the best heat retention qualities thanks to its double wall. It also features a bubble cap that allows you to enjoy very large dabs without needing to reheat. By heating the outside and inside walls, the heat is retained, and you can enjoy longer sessions.
2. Opaque Bottom Bangers
A trendy opaque bottom banger design is the Grail by
Highly Educated,
Utah. The star feature of this design is its opaque bottom which retains heat two times longer than its side walls. This design is excellent for everyday use and convenient since it doesn't need to be reheated often.
3. Color Changing Cadmium Bangers
The color-changing cadmium bangers are a brilliant and functional idea from Whitney Harmon Glass. Rather than using a timer to get the perfect temperature, watch the cadmium-colored glass change from a bright orange when fully heated to a bright yellow as it cools down. All you need to do is find your perfect shade match.
4. Low Temp Core Reactor Bangers
Core reactor bangers are unique due to the presence of a large thick piece of Quartz in the bucket. The core reactor is an original design of Toro Glass and is famous for its heat retention qualities. The center core will keep your dabs hot for much longer, in fact, longer than most other bangers out there. You can enjoy larger dabs with lower temperatures if you have a proprietary carb cap.
5. Angle Top Quartz banger
Quave and the QCB (Quave Club Banger) largely contributed to making the angle top quartz banger popular and starting off the quartz era. Although the angled top isn't as practical and functional as the flat top, it is more aesthetically pleasing. It is also easy to clean and great for small to medium size dabs.
6. Round bottom Quartz Nails
The round bottom was an innovative design by
Joel Halen
. The design's deep dish is perfect for large dabs, and its flat top makes for a strong seal with any
carb cap.
Since there are no corners, your oil moves faster and vaporizes better.
So there you have it!
There are many iconic and functional quartz designs to choose from. Ensure you get the fitting carb cap to match your quartz banger perfectly!
---