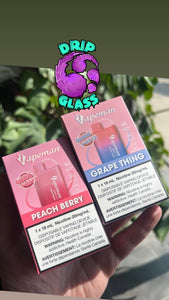 The Complete Guide to Different Brands Of Disposable Vapes in Canada
There are lots of different brands of disposable vapes in Canadas market. Some of the top well known brands are: MR. Fog, GCORE, Vice, Ghost, Allo, STLTH, Ghost, Flavour Beast, Coolplay & ELFBAR. Here at Drip Glass & Vape we pride ourselves in carrying only the top quality!
Come to Jasper Ave in Edmonton or give us a call or email to get your own disposable vape!
Gcore vapes is one of Canada's top leading disposable vape brand.
With Gore's slim, compact design, it makes it a breeze to keep in your pocket.
With a 1100mah Battery, this
GCORE Vape
delivers roughly 3500 puffs.
No need to refill or swap coils!
GCORE disposable Vape
has a bunch of different flavours. Give us an email info@dripglass.com or a call for more options! 1-780-990-5247
Mr Fog disposable Vape is one of Canadas first disposable vapes manufactured. Being founded in 2015 Mr. Fog had a goal to provide a safer alternative for adult smokers.
Mr. Fog disposable vape has always proven to be a innovative leader in the space.
With a 1100mah Battery, each Mr Fog delivers roughly 2500 Puffs.
Mr. Fog is small, lightweight and portable!
Mr.Fog
has a anti leak design and there mesh coil delivers the best flavour! Each Mr.Fog disposable also comes with a lanyard.
Flavour Beast Flow 4000 is a Rechargeable disposable vape. With a 600mah battery and 10ml of e-liquid, Flavour Beast delivers roughly 4000 puffs.
Flavour Beast disposable vape has a ton of unique flavours, mesh coil and the perfect airflow control!
Package contents: 1x Flavour Beast 4000 Puff Rechargeable Disposable Vape
Elf Bar 5000 Puff comes in a small box, but has big power! With only a 650mah battery and 13ml of eliquid, each elf bar has roughly 5000 puffs!
Each Elf Bar vaporizer disposable is rechargeable which takes the stress out of running out of power.
Elf Bar 5000 Puff is sleek & compact making it easy to take anywhere!
---