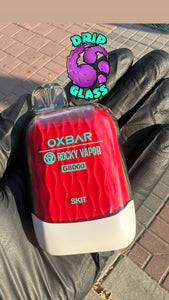 Septembers Disposable Vape - Oxbar 8000 Puff
Welcome to Drip Glass & Vape, your one-stop shop for top-tier vaping products in Canada. Today, we're thrilled to introduce you to a vaping sensation that's taking the nation by storm – the OXBAR G8000 Disposable Vape. In this comprehensive guide, we'll not only explore the incredible features of the OXBAR G8000 but also shed light on the advantages of opting for a disposable vape and how you can grab yours at Drip Glass & Vape. Let's dive in!
Why Choose OXBAR G8000 Disposable Vape?
The OXBAR G8000 Advantage
1. An Epic 8000 Puffs Journey: The OXBAR G8000 is not your ordinary disposable vape; it's a powerhouse with a jaw-dropping 8000 puffs! This means fewer replacements and more uninterrupted vaping pleasure for you.
2. Flavor Extravaganza: With an astonishing 20 different flavors in its arsenal, the OXBAR G8000 ensures there's a flavor for every mood and craving. From the classic tobacco taste to refreshing fruit blends, you'll be spoiled for choice.
3. Perfect Nicotine Balance: Each OXBAR G8000 boasts a 2% nicotine concentration, offering a satisfying nicotine hit while maintaining a smooth vaping experience.
4. Transparent Elegance: The transparent design of the OXBAR G8000 not only adds a touch of sophistication but also allows you to keep a close eye on your e-liquid levels. No more surprises – you'll always know when it's time for a refill.
5. Rechargeable Convenience: Surprisingly, the OXBAR G8000 is a disposable vape that can be recharged, thanks to its 650mAh battery. Enjoy the flexibility of recharging when necessary to extend your vaping sessions.
6. Generous E-liquid Reservoir: With a generous 18ml of pre-filled e-liquid, the OXBAR G8000 ensures you have an ample supply of your favorite flavor, eliminating the need for frequent refills.
7. Stylish Lanyard Inclusion: As a bonus, each OXBAR G8000 comes with a branded lanyard, making it convenient to carry and always within reach for your vaping pleasure.
Why Go for a Disposable Vape?
Now that you've seen the incredible features of the OXBAR G8000, you might wonder why you should choose a disposable vape. Here are a few compelling reasons:
1. No Maintenance Hassles: Disposable vapes like the OXBAR G8000 require zero maintenance. There's no need to clean or replace coils, making them hassle-free and perfect for beginners.
2. Ultimate Portability: Disposable vapes are incredibly portable, fitting comfortably in your pocket or bag. They're ideal for on-the-go vaping, whether you're commuting, traveling, or simply enjoying the outdoors.
3. No Charging Required: While the OXBAR G8000 is rechargeable, other disposable vapes don't need charging at all. They're pre-charged and ready to use right out of the box.
4. Wide Flavor Selection: Disposable vapes offer an extensive range of flavors, allowing you to explore different tastes without committing to a single flavor for an extended period.
Drip Glass & Vape - Your Vape Haven in Canada:
At Drip Glass & Vape, we take pride in being your trusted source for top-quality vaping products in Canada. Our commitment to providing the finest products and exceptional customer service has made us a go-to destination for vaping enthusiasts across the country.
Why Choose Drip Glass & Vape?
1. Extensive Product Selection: We offer a diverse range of vaping products, from disposable vapes like the OXBAR G8000 to mods, e-liquids, accessories, and more. Whatever your vaping needs, we've got you covered.
2. Quality Assurance: We only stock products from reputable brands known for their quality and reliability. Rest assured, every purchase at Drip Glass & Vape meets the highest standards.
3. Knowledgeable Staff: Our experienced team is here to assist you with product recommendations, troubleshooting, and answering any vaping-related questions you may have.
4. Competitive Pricing: We understand the value of a great deal. That's why we offer competitive pricing to ensure you get the best bang for your buck.
5. Convenient Online Shopping: Can't make it to our physical store? No problem! We offer online shopping with fast and reliable delivery options, bringing the vape products you love straight to your doorstep.
Visit Drip Glass & Vape Today!
Ready to experience the OXBAR G8000 and explore our vast selection of vaping products? Visit our physical store at [Insert Address] or shop online at [Insert Website URL]. We're here to make your vaping journey in Canada an unforgettable one.
Conclusion:
The OXBAR G8000 Disposable Vape is not just a vaping device; it's a game-changer. With its remarkable features and the convenience of disposable vaping, it's the perfect choice for both beginners and experienced vapers. At Drip Glass & Vape, we're here to bring this vaping sensation to your doorstep. Join the vaping revolution today and elevate your vaping experience with OXBAR G8000 from Drip Glass & Vape in Canada. Happy vaping!
---