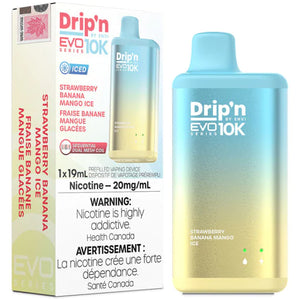 Novembers Disposable Vape of the month: Drip'n 10K
Introducing our newest and BIGGEST disposable vape so far, the Drip'n Evo Series 10k. With a longer battery life and a staggering 10,000 Puffs the Drip'n 10k wont disappoint.
Drip'n is made by Envi Vapes, which are one of the best and biggest brand in the world of disposable vapes. Each model goes through strenuous testing to ensure longevity and high flavour performance with each vape. 

Experience unparalleled longevity in every puff with the Drip'n Evo 10k. The disposable vape currently has 15 different unique flavours catered to any vaper. With an impressive 19ml of high liquid salt nicotine paired with the sequential dual mesh coil you won't be disappointed! The dual mesh coil helps maximize the flavour from the first puff all the way to the last. 

Drip'n 10k is almost just as compact as its predecessor, the 5K model. Still has an adjustable airflow and charger on the bottom. User friendly Eliquid and Battery indicators on the bottom as well so you will never run out or let it die again! Drip'n 10k Disposable Vape is currently in stock and ON SALE! 
---