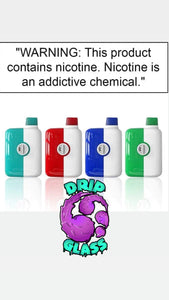 July's Newest Disposable Vape - Mr. Fog Switch
You may have read our last blog about the Mr. Fog Switch. With still 15ml of high quality E-Juice, and 5500 Puffs. The Mr.Fog switch is still the same, high performing disposable vape you have been loving.
Still your favourite, compact disposable vape but with 10 NEW flavours! Now 30 Flavours available, always in stock at Drip Glass & Vape, located downtown Edmonton on Jasper Ave, shipping Canada - wide! 


Rechargeable 650MAH battery, equipped with a mesh coil, bringing you an unstoppable flavour! No coil replacements needed, no hassle of leaking or having to refill with juice, just inhale and go! 
30 Flavours total, ranging from Fruit, to Drink / Pop Flavours and just full on Menthol / Mint flavour! You are guaranteed to find one you like! 
---