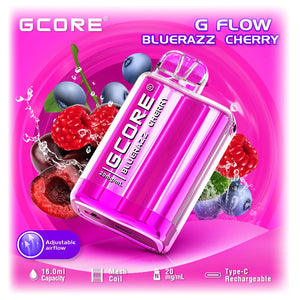 Augusts Disposable Vape of the month - GCORE 7500
Introducing Gcore's newest disposable vape - The G7 Flow 7500.
In the dynamic world of vaping, innovation continues to push the boundaries of convenience and performance. GCORE is the latest brand to take the vaping community by storm. 
With there most puff-count yet, the G7 won't disappoint. Up to 7500 puffs and 16ml of high quality e-liquid. There upgraded next generation mesh coil promises an unparalleled vaping experience.  
One of the standout features features of the GCORE G7 Disposable vape is the sleek and compact design. Perfectly sized to fit in your pocket or purse, GCORE offers ultimate portability for vaping on the go. 
GCORE 7500 understands that flavour is at the heart of every vaping experience. That's why they offer 14 impressive range of flavours to suit every palate. From Classico Ice and refreshing double mint to exotic fruits there's a flavour for every mold and craving! 


Hassle free convenience - Gone are the days of refilling your tank and replacing coils! As soon as you open the package, you're ready to enjoy. No need to worry about maintenance or leaking vapes. 
---